double use battery sprayer
is reduce labor intensity good atom ization, and simple tooperate.Turn on the power switch to start spraying.turn off to stop.Savingtime,effort,efficacy fast speed to fight drugs , pesticide savings,reducepollution,simply turn on the power switch can work to fight drugs.turn off thepower switch on the stop. If you run out of battery power during long timeoutdoor work, continue to work by hand. The product has unique structure andnovel design. Air compartment has the advantages of saving labor, quickpressure arising and high efficacy.
Applicable scope:
Well suited for wheat, corn, rice.fru it tree,green houses, grapes,tobacco.tea,horticulture and other agriculture crops spraying,also suited for the largespaces pest control and sanitation prevention.An excellent sprayer designed forcontinuous work for remote areas in the wild,high mountains,tea plantations.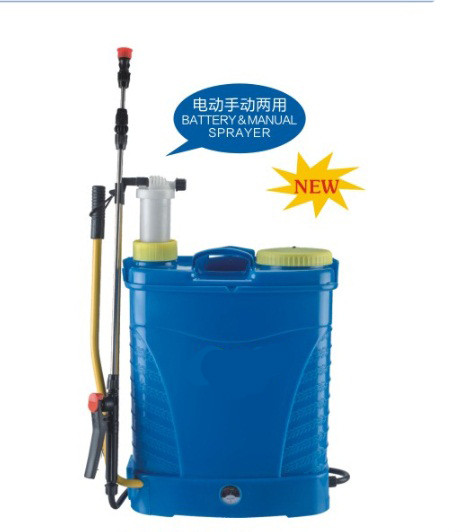 USE  by hand operated or battery operated
ElECTRIC OPERATED   technical data
Material of tank: PE
Capacity: 16L--18L
Working pressure: 0.2- 0.4MPa
Battery: 8Ah
Pump:12V
Continue working time:                                                      
 After charged for 10 hours by 12V,8Ah lead acid battery, it can works for 4-5hours
After charged for 10 hours by 12V,10Ah lead acid battery, it can works for 6-7hours
On-off: water proof
Shut off: automatic
Lance:  durable stainless steel  /fiber glass lance
Nozzles:Single nozzle,2holes,4holes
Hose: 1.2MPVC hose
package: color box
Your logo and brand can  print on sprayer and color box
Hand operated  details
Power type: Manual
Lance: fiber glass lance
Nozzle: plastic , three nozzle for free
Switch: red-button switch
Pump: Internal , high-efficiency piston pump
Hose: high pressure premium PVC hose